Named a "must-read" by the 2016 Massachusetts Book Award, Joyce Peseroff's new collection teases the nature of self-knowledge from a world where identity is fluid, character fragmented, landscape overwhelmed, and culture riven. In poems that dramatize politics, eros, myth, and mortality, Peseroff's edgy wit cuts through the classical Greek definition—"You're not an animal/or a god, take the middle path"—to parse our century's slippery dialectics. Playful and complex, Know Thyself distills music from the salt of human experience.

EASTERN MOUNTAIN TIME

What endures the encroachments of time, history nature and mortality? Peseroff speculates with a clear-headed, wry look at the world's catalogues and almanacs of largesse—lilies, Jerry Garcia, men in fog, animal joy—as well as its sorrow. In startling original poems full of leaps and digressions that reveal the mind in action, readers will encounter life through a person made raw by observation, a mind
processing loss and mortality in a petal, a poet alert to how syntax and language can reconfigure the experience of grief.
THE HARDNESS SCALE

"Peseroff, a clear-sighted, good-humored poet, has written poems that have the virtues many of her contemporaries strive for: she attains at times an unpredictable, colloquial poetry that adapts the casual, protective comic sense of a generation's manners to the demands of art." —Robert Pinsky

A DOG IN THE LIFEBOAT

It's easy to stay engaged with Joyce Peseroff—syllable by syllable, phrase by phrase…. While I laugh at the comic situation of the characters, I'm also slowing down to listen. …She is interested in…how fact, rumor, and tall tale turn into legend, creating folk heroes and community identity.
—Robin Becker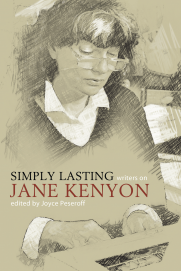 SIMPLY LASTING: WRITERS ON JANE KENYON
Edited by Joyce Peseroff

In personal and critical essays, letters, poems, an interview, and reviews by writers around the country, Jane Kenyon's life and works are considered and celebrated for their tenacity, spirit, and timeless charm. Simply Lasting includes new responses to Kenyon's poetry and reviews and criticism written during her lifetime, as well as never-before-published letters from Kenyon herself.